Serving the Boise/Meridian and surrounding areas since 2003 and providing quality on-site
bike repairs and tune up services at your favorite location: The Bike Store At Your Door!

Offering a wide choice of services like our Basic Service and Performance Tune Ups,
Flat Repairs & Prevention, Bike Assembly, General Repairs and Multi-Bike Discounts!
Let us fix your flats and Virtually Eliminate Flat Tires with Proven Prevention
Parts & accessories along with Great Value and Quality Service
Enhance your bike and Add Performance, Reliability and Comfort to Your Bike
Make the call or schedule an appointment today and get back on your bike riding and enjoying the best time of the year with your friends and family. Have three (3) bikes or more, please see
our
Group Tune
section for Multi-Bike Discounts!
Mobile Bike Basic Service is our basic packaged service. It includes inspection of your bike,
lubricate chain and pivots, air up tires and adjustment of your bike's braking and shifting mechanical systems. This is the minimum you should do every year for your bike.
Price is $39.00
Mobile Bike Performance Tune is recommended if you like to ride regularly
or it has been a while between bike services & your bike needs additional care.  

Included is a wash and cleaning of your bike, lubricate chain, cables and pivots, air up tires, bike inspection and adjustment of your bike's main mechanical systems including braking and shifting systems. In addition, both front and rear wheels are trued, bottom bracket & headset
are adjusted if necessary. We call this our "Performance Tune" for good reason!
Price is $65.00
Note: the above packaged service prices are for the specified labor only. Your bike may require additional parts to complete the job; such as a shift cables & housings, brake pads, tubes,
tire or chain; please note there is an additional charge to install these requested items.

In addition to our packaged services, we offer many other bike repairs and services
at our standard rates, as well as parts and accessories to complete the job. Call us if you
have any questions or need an estimate.

Flat Repair: labor is $7.00*. *This labor repair price applies only when performed
at the same time as your basic service or tune up; see tube prices listed below.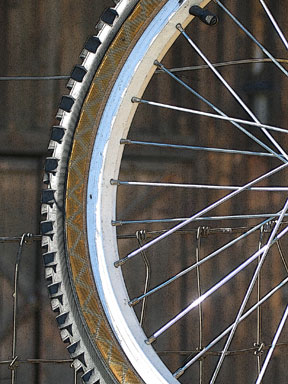 Tube Prices (parts only):
Standard Schrader Valve Tube $7.00
Standard Tube w/Slime $12.00
Standard Presta Valve Tube $9.00
Standard Presta Tube w/Slime $13.00
Heavy Duty Thorn Resistant (Std.) $14.00
Heavy Duty T/R w/Slime (Std.) $17.00
Heavy Duty T/R w/Slime (Kids 16″) $14.00

Note: Tube prices may vary based on size.

Fit Adjustment:
Fitting your bike to you so it is both more comfortable and safe.
When done at the same time as one of the above packages, the price is only $25.00
(Includes up to four individual adjustments).
Mobile Bike Pro 1 Overhaul:
We recommend that you get your bike overhauled every 2-5 years or more often depending on your riding conditions.
Our Pro 1 overhaul includes a Performance Tune Up,  all gear and brake cables/housings replaced (4), bearings repacked in both front and rear hubs & bottom bracket: $150-$175.00.
Please call for more detailed pricing on overhauls and refurbs, as each bike is different with regards to condition, recent maintenance and drive train evaluation.
Repairing is recycling and the proper maintenance and repair of your bike helps keep the environment green and saves money over the long run!.